This just in!! I will be appearing at the South Florida Folk Festival. as a finalist in the South Florida songwriting competition. I will be performing "The Mother" and "I Was There" during the competition on the 13th. On the 14th we return to the stage to perform more of our work.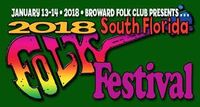 The South Florida Folk Festival is presented by the Broward Folk Club. Since its inception in 1990, the Festival has been a combination of a music fest, family reunion, community gathering, and weekend musical retreat. Their ongoing goal is to preserve our rich American heritage/ tradition of song and story into the next century. 
I'm extremely honored to be sharing the stage with my fellow music maker. America is a country of many stories. We are privileged to be the storytellers of this great Nation.