Enjoy "Take it Easy"  a free download for you today just for dropping by!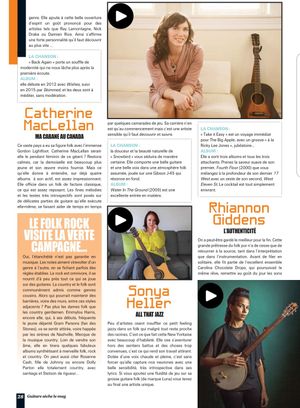 This Month, a feature article in  the French Guitare Sêche Magazine entitled "Le Folk au Feminin," (Women in Folk), has me featured alongside the likes of Joni Mitchell, Odetta, Sandy Denny, Marianne Faithfull and Joan Baez just to name a few. Certainly some of the most notable women in modern folk history. Journalist Tony Grieco has outdone himself in this epic presentation. I've translated the section I appear in for you to read. The full article will be translated into English and take it's place among the great Folk archives. 
---
Sonya Heller-All That Jazz  
"Few artists can pull off breathing a jazz feel into Folk music while remaining close to their roots. That's what this New Yorker does with great skill. She dares to venture off the beaten path and convention. It's what makes her work all the more attractive. Endowed with a rich warm voice that flows seamlessly , she peaks our senses with masterful subtlety when delivering very introspective lyrics. Add to that a smooth style on a big folk guitar (Luna) you end up with a truly unique artist.   
The song: "Take It Easy" transports you immediately to the Big Apple with a  groove...  à la "Ricky Lee Jones."  Jubilant...   
Album: Three albums to her credit and all three endearing. Take the suave flavor of her first, "Fourth Floor"  the introspective depth of her most recent "17 West" with the zest of her second, "West Eleventh St."  The cocktail is simply intoxicating."