Guillaume Fourticq with English translation-Ann Kirchoffer 
Rolling Stone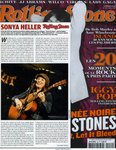 "Sonya Heller is very much her own artist and comes alive onstage"
Sonya Heller Nearly three years after her critically-acclaimed first album "Fourth Floor", Sonya Heller is back with her guitar, her pop-folk inspirations and "West Eleventh Street". This is the ideal occasion to interview this very discreet artist and to learn a little more about her. 
West Eleventh Street, the sequel to Fourth Floor, is Sonya Heller's complete address in two albums - a cool place to live, according to her. The first notes of her latest album were actually written in Paris during the summer of 2007; a long time to wait for an album, especially at a time where there are constantly new releases and where even U2 has two albums scheduled in 2009. But this wait is not as long as it seems. "Actually, I didn't really wait nine years before starting this album, I tried to get down to it a couple of times, in 2004 and 2006, before being able to do so in 2007 in Paris."What triggered it was the writing of Justine, the first song of the album. She admits having waited for this song which sort of fell on her at a time when she needed it. It was then that the writing of the album could begin. She didn't want to produce it in a rush, as is often the case today. For her, writing an album takes time. A general line of ideas, fifteen songs, only two or three of which will end up as is in the end. 
For Sonya Heller as for all folk artists, writing is very important. And she has her own way of going about it: "When I hear a story or I see something that touches me, I hurry to write it down, word for word at first, and then I give it a form that suits me better. Even if the text is an embellishment of reality. I try to feel my experience". In her opinion, art is about creating something universal out of one's personal experience. And when inspiration eludes her, all she needs to do is strum a few chords on her guitar or write a few verses. As for the topics in this album, they range from her personal experiences to the dance between spirituality and sexuality.She acknowledges that she has mellowed with time which enables her to write the lighter, more pop pieces herself, as can be seen in Sur le pont and Take It Easy. "In the past I wasn't in the right place to come up with some lighter pop tunes. I didn't really feel capable of it. I must be lightening up a little with age...(smile)" 
As far as the release of her new album is concerned, she says she is both very anxious and very excited, and would like to let go of the task of production, and get back on the road to share her music. Music that draws inspiration from the likes of Sting, Bob Dylan, Richie Havens, Georges Moustaki or Sarah Vaughn, as well as opera, chamber music or the Yiddish singer Theodore Bikel. Very much her own artist, one has a strong sense as to the importance of these influences in her life. 
Sonya Heller live: it is on stage that she takes on her full dimension.