Sonya Heller-All That Jazz
---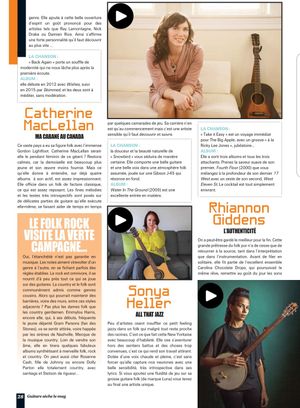 Sonya Heller-All That Jazz 
"Few artists can pull off breathing a jazz feel into Folk music while remaining close to their roots. That's what this New Yorker does with great skill. She dares to venture off the beaten path and convention. It's what makes her work all the more attractive. Endowed with a rich warm voice that flows seamlessly , she peaks our senses with masterful subtlety when delivering very introspective lyrics. Add to that a smooth style on a big folk guitar (Luna) you end up with a truly unique artist.  
The song: "Take It Easy" transports you immediately to the Big Apple with a  groove...  à la "Ricky Lee Jones."  Jubilant...  
Album: Three albums to her credit and all three endearing. Take the suave flavor of her first, "Fourth Floor"  the introspective depth of her most recent "17 West" with the zest of her second, "West Eleventh St."  The cocktail is simply intoxicating."
Sonya Heller -All that jazz 
Peu d'artistes osent insuffler ce petit feeling jazzy dans un folk qui malgré tout reste proche des racines. C'est ce que fait cette New Yorkaise avec beaucoup d'habileté. Elle ose s'aventurer hors des sentiers battus et des choses trop convenues, c'est ce qui rend son travail attirant. Dotée d'une voix chaude et pleine, c'est sans forcer qu'elle capture nos neurones avec une belle sensibilité, très introspective dans ses lyrics. Si vous ajoutez une fluidité de jeu sur sa grosse guitare folk (de marque Luna) vous tenez au final une artiste unique. 
La chanson : « Take it Easy » est un voyage immédiat pour The Big Apple, avec un groove « à la Ricky Lee Jones », jubilatoire… 
Album : trois albums à son actif et tous les trois attachants. Prenez la saveur suave de son premier, Fourth Floor  que vous mélangez à la profondeur de son dernier 17 west avec un zeste de son second, West Eleven St. Le cocktail est tout simplement enivrant.