Crossroads Magazine-"short cuts"- by Tony Grieco 
This charming New York artist has just sent us a new postcard from her city.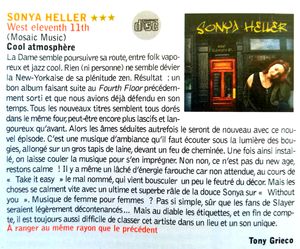 Sonya Heller 
"A Question of Atmosphere…" 
This charming New York artist has just sent us a new postcard from her city. As we know, the atmosphere over there is exceptionally cosmopolitan, and this young woman, listening to the sounds of the city, recreates them for us in a great "melting pop" based on folk music, jazz and a hint of Latin spirit. She spices things up a little in her latest work, West Eleventh Street, by incorporating a subtle rhythmic section and a couple of well-timed saxophone slurs. Listening to her, we settle down without further ado and let ourselves be carried away into the "atmospheric" universe of her voice... 
Sonya, your music is made out of a little folk music, a little jazz and other subtle ingredients. How do you bring together the perfect mix, the perfect blend for this cocktail? 
Yeah, it's an interesting mix, isn't it?  My roots are in all kinds of folk music however I sometimes lean towards bass lines and chord progressions that are more jazz oriented. I've also been lucky enough to encounter jazz musicians who don't hesitate to go beyond their genre to accompany my music. Mix that up with my love for R&B and Celtic music and for me…that's Heaven! 
The sound of your voice reminds us of singers such as Joni Mitchell or Rickie Lee Jones. Were you influenced by these artists? 
First and foremost, my musical gift comes from my mother. She had the voice of an angel, with certain nuances that only she and I shared. The tones of our voices were very close and blended perfectly together. Later, yes, I discovered Joni Mitchell, Laura Nyro and Judy Collins. I am inspired by these great artists as well as by others such as Sarah Vaughn and all the great jazz singers. 
You play a lot on atmospheres that are cool and ethereal. Do you sometimes feel the need to go out there with a rock band behind you? 
The last album was sparse with a quieter nuance, but West Eleventh has more of an earthy and multi-textured quality to it. But hey, if you're talking about big fat guitar solos, I'll leave that to my talented rock and roll friends. 
Your lyrics are often intimate and personal. Do you convey a message in them? 
That's true, they are intimate and personal, but sharing them allows others to identify, and people who listen are often touched by what you are saying. From that point onward, your message is no longer personal, but universal. One night, I was playing live on a radio show, it was around 3 a.m. and I was singing "Into the Night". The next day a listener called me to tell me that he suffered from heavy depression and that to hear me had cheered him up no end… And in  that moment, I felt a huge purpose in my life. 
With regards to writing, are you inspired by a certain type of poetry? 
I don't think so. My poetry is very introspective. By itself, it can be dark and disturbing. I try to surround the language with music that I hope will stand up to the intensity of the lyric, and at the same time make an offering of comfort and hope for others, myself included. 
How do you decide about the arrangements of your songs? 
It's very organic, and seems to come from nowhere. I play something on the piano or on my guitar, something that can match the story, and I try to bring the two together. I often play my new songs that way, in small clubs in the city, and I ask the audience what they think… If the song can stand alone with simple accompaniment, I know I've succeeded. With most songs I'll start to hear the arrangement in my head and take it from there. 
You play some great acoustic guitar yourself. How did you learn? 
Thank you for the compliment… The truth is I taught myself on a 25-dollar guitar that my father bought me... A few good books and countless hours locked up in my room did the rest. Little by little I discovered Segovia, arpeggios and the work of some of my peers such as Vicki Genfan and Erika Luckett. 
You talk a lot about love, but we also hear other things in your music, we can practically smell the city, the streets, the cafes, in other words, feel an "atmosphere"... 
When I was a student, I would sometimes drop everything and walk the streets for hours on end, looking at people and observing things. When I would finally sit down to write, the song would flow by itself onto the paper. I would ask myself why it took me so long to write… And my teacher would explain to me that I was  writing, when I was always writing while walking, dreaming or driving. He was right, and your question evokes this phenomenon very well. We take it all in before "letting" the song out. 
What do you like most, singing on stage or disappearing into the darkness of a studio? 
I love performing, whether in a cafe or a large theater. But I don't dislike being in a studio, far from it, I love the atmosphere there, the headphones, listening to the first recordings and holding my tenth cup of coffee of the day… That too is very exciting. 
West Eleventh Street, is that where you live? 
For the time being, yes..I like looking out of the window from the fourth floor... 
[note: Fourth Floor is the title of her previous album]